In July 2016, the encounter of Burhan Wani saw Kashmir valley erupt in protests. Over the next few months, security forces shot dead over 100 civilians and left over a thousand injured during protests across the Valley, especially South Kashmir as Burhan Wani belonged to Tral in Pulwama.
Eight months later, TwoCircles.net Staff reporter Raqib Hameed Naik travelled to various villages of Pulwama district to witness how the actions of security forces, and their use of pellet guns, wrecked havoc with people's lives across the region.
Rahmoo (Pulwama): Travelling South, from Srinagar to Kakapora and then to Rahmoo village, the red and white walls surrounding the army garrison in Badamibagh cantonment are among the first things you notice. Attentive troopers with guns, fingers on the trigger, ready to shoot as and when and if needed, like they would at the Line of Control. Except, this is in the outskirts of Srinagar, the capital.
The fear of guns recedes when the garrison makes way for a picturesque view of the Jhelum flowing, almost silently, as if trying to convince you that it has always been this peaceful. That this land had not seen any blood.
After negotiating several curves, the road leads to lush green fields and apple orchards with people busy working in their fields, depicting a return of 'peace'. Again, a false image.
A right turn from Kakapora main town leads us to series of villages. The walls of the villages are painted with graffiti eulogising their Shaheed (martyrs). For the Indian government, of course, these Shaheeds are terrorists. Interestingly, the graffiti has been, for the time being, left untouched by the security forces even though every village has an army or a CRPF camp.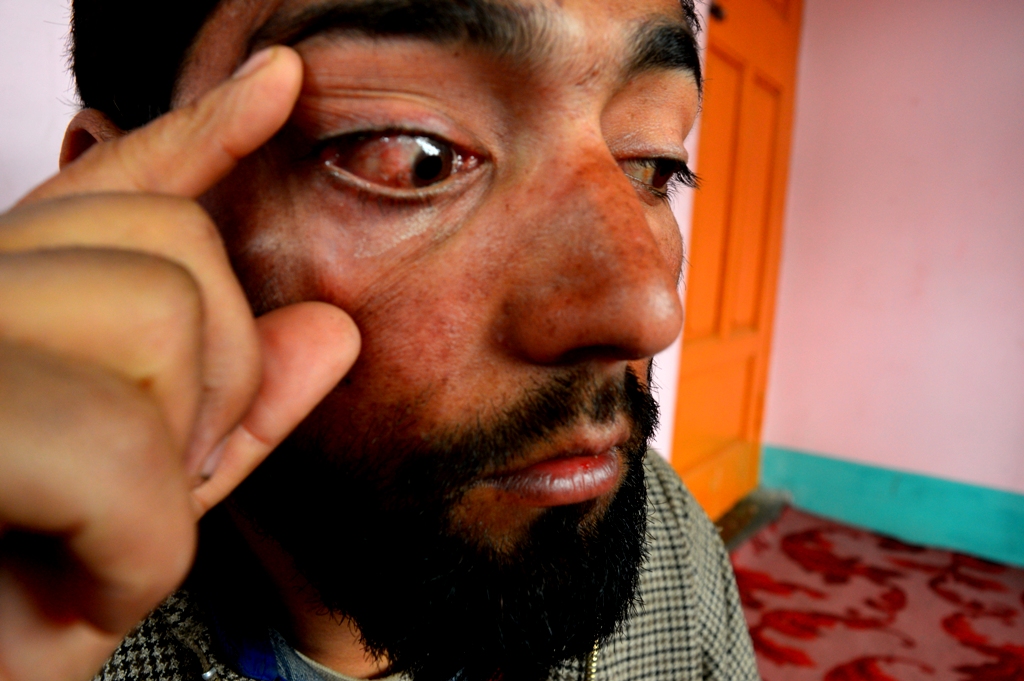 After crossing nine villages, you are 'welcomed' to Rahmoo village by a big flex with pictures of more Shaheeds. A left turn from the main village road takes me to a mud house in the corner of a field, hiding behind a Tin gate. This is the house of 28-year-old Mohammad Ashraf Wani.
Ashraf is lying down on a mattress and wearing dark glasses (a scaringly familiar sight in Kashmir). Before August 24, 2016, it would have been nigh impossible to find him at Home during the day, as he was dividing his time between studying and working at Airtel. When not studying for his graduation, Ashraf worked with the telecom major as a field officer, recovering outstanding bills from customers. But after the encounter of Burhan Wani, the region was united in protests, and Ashraf was no different.
"That day people were protesting at Prichoo, Pulwama and I was also a part of it. We were peacefully registering our protest and I had even asked a police offer to let us do peaceful protest but he didn't allow it. Soon, the arguments lead to stone pelting between protesters and security forces," recalls Ashraf.
Ashraf tried to move towards a corner in order to look for a safe corner. But one of the officers from a CRPF vehicle started firing at the protesters, leading to the death of two people and injuring six. Ashraf was one of the injured that day, and like thousands of others in Kashmir, his life has never been the same again. The local people picked Ashraf and took him to District hospital Pulwama, where security forces again fired at the car. So, the locals had no option but to drive to SMHS hospital in Srinagar. Mercifully, they were not attacked again by security forces on the way to Srinagar.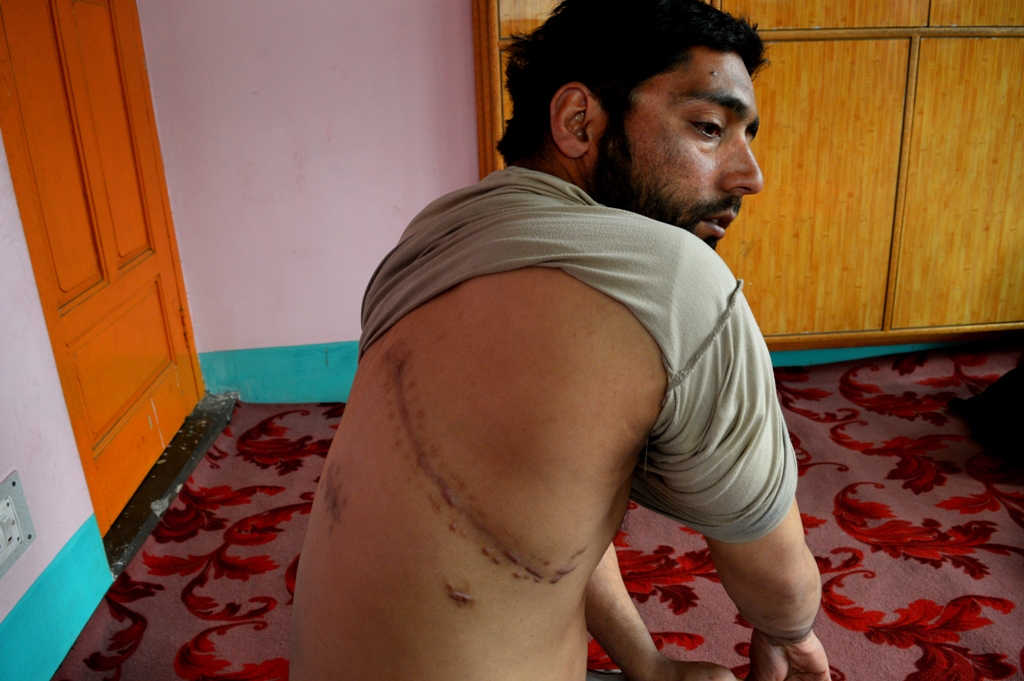 "I was hit by a bullet in the back which pierced my liver, touched one of my lungs and came out through the chest," he said. And yet, Ashraf, who was on a ventilator for the next six days, was discharged two weeks later and advised to rest for three to four months.
It is obvious that his survival could be termed miraculous, but this was not the end of Ashraf's pains.
On October 31, 2016, as he was still recuperating from the bullet wounds, the early morning witnessed another round of protest in the village. According to Ashraf, security forces hit hard, vandalising local properties and beating residents. Ashraf still carried bullet wounds and did not want to be found out by the security forces.
So, he tried to move to a nearby hill- Lidergan, surrounded by a dozen houses, hoping it would be safe there.
"That day, the security forces, including the J&K police, were beating everyone. They beat one girl so much that she was unconscious for two days," he says.
As he climbed the hill, security forces, who were chasing other youths, also climbed the hill and fired pellets indiscriminately, along with tear gas shells on people. Finding it difficult to move, he tried to hide behind a tree, but policemen aimed his pellet gun at him and fired, leaving Ashraf in a pool of blood.
He was bleeding all over: legs, chest, hands, face to eyes, the tiny little lead pellets were everywhere in his body. Few pellets even made their way into the heart. For the next one week, he remained unconscious: when he woke up in the hospital, he realised he had lost vision in both his eyes. After a few surgeries, doctors were able to restore some vision in his left eye but the right eye is still blank.
Even after six surgeries, pellets remain all over his body and Ashraf, a budding student and an employed person, has been left to recover from bullet and pellet injuries.
For his mother Rahti Begum, 51 Ashraf getting shot wasn't the first tragedy the family had seen. In 2005, Ashraf's father had died after a tree fell on him, leaving the responsibility of feeding and providing education of four siblings on Ashraf's shoulders.
"He had dreams which crashed after the death of his father. He wanted to join Indian navy but he left education so as to earn enough to support the education of his three sisters and one brother," Rahti says with a grim face.
He worked as a labourer- picking apples from orchards, cutting grass and loading apple boxes in the truck to support his family, but never gave up education. When he got a job in Airtel, earning Rs 12,000 a month, he enrolled for graduation. He was supposed to appear in the final year exams of graduation this year, but he couldn't make it because he didn't have the vision in his left eye.
Now Ashraf, usually stays most of the time at home, confined to his own room, usually venturing out for prayers. He can't work, study or play his favourite sport- cricket.
"I feel like I am a burden now. Every evening, I cry my heart out," he says.
The family has spent more than 8 lakh on Ashraf's treatment, most of which has been donated by his friends and the other residents. Besides the family had to take a debt of 3 lakh rupees from a local trader and more is required for continuing his treatment. "The pain of pellet, bullet wounds is nothing compared to the helplessness of not being able to help my family," says Ashraf.
[Authored by Raqib Hameed Naik and originally published by TwoCircles.net]